The delegation from Delft University of Technology, headed by Vice President Peter A. Wieringa, visited Hohai University on May 17th. Vice President Weiya Xu met with the delegation.
Vice President Weiya Xu introduced Hohai University's basic information of talent cultivation and scientific research, highlighted the latest development of "Double First-Class" construction of Hohai University, and reviewed the long-term fruitful cooperation between the two sides. He proposed to deepen cooperation and promote win-win development by expanding cooperation disciplines from water conservancy, coastal engineering and civil engineering to energy, electricity, materials and information, and diversifying cooperation approaches from exchanges of teachers and collaborative research to talent cultivation, exchanges of students and joint international conference. Vice President Peter introduced the basic information of Delft University of Technology. He stated that Hohai University is Delft University of Technology's traditional partner in China and the two sides have enjoyed a close relationship and various cooperation. He proposed a deeper cooperation by joint efforts.
Vice President Weiya Xu and Vice President Peter renewed the cooperation agreement between Delft University of Technology and Hohai University.
Relevant personnel from College of Harbor Coastal and Offshore Engineering, College of Civil and Transportation Engineering, College of Environment, College of Energy and Electrical Engineering, College of Computer and Information Engineering, College of Mechanics and Materials and International Office attended the meeting.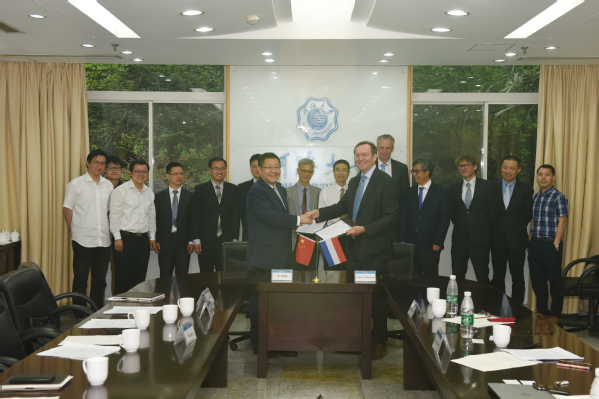 Delft University of Technology is the largest and oldest Dutch public technological university, located in Delft, Netherlands. It counts as one of the best universities worldwide for water conservancy, civil engineering,architecture, environment, aeronautics, electromechanicsand materials, and is repeatedly considered the best university of technology in the Netherlands. Delft University of Technology is Hohai University's partner in Europe, and the cooperation between two sides has enjoyed a long history.