Marcel Steve, a distinguished professor of our school, was awarded the 2017-2018 Jiangsu Friendship Award.
Recently, the Jiangsu government held the Jiangsu Friendship Prize award ceremony, our School 111 Base academic master, Sino-Hoshi water research center, chairman of the Netherlands-- Marcel Steve professor won the award.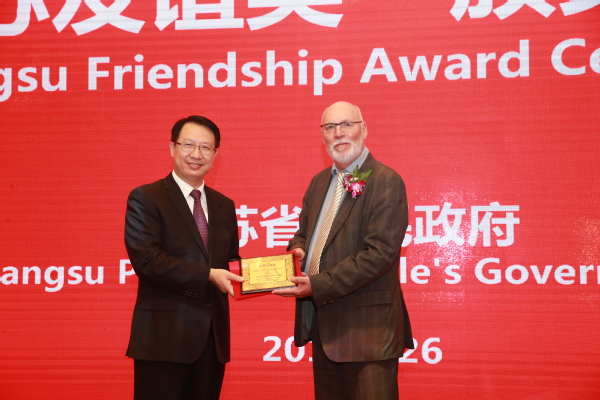 Professor Marcel is employed by the Bureau of Foreign Experts Affairs. He is an academic master of "Coastal beach resource development and introducing talents of safe discipline and innovation base".i.e. "Introducing talents of discipline to universities"( project 111), held by the Ministry of Education of China. Since 2003, he has successfully declared 1 key research project on international cooperation founded by National Natural Science, guided 3 young teachers, co-cultivated 5 doctoral students, co-published 11 papers, co-held 3 international academic seminars, and made 3 lectures. Every year, he gives the lecture of "Advanced Costal Dynamics" program to the doctoral students of the collage of Port Coast and Offshore Engineering. At the same time, as the chairman of the Sino-Hoshi water Research Center of the Netherlands, he builds the cooperation platform between Hohai University and the Dutch Delft University of Technology.
Over the past 7 years, Professor Marcel has made use of his deep academic attainments and extensive engineering experience in coastal engineering to make suggestions for coastal development in Jiangsu Province, and provided valuable advice for sustainable development, utilization and protection of coastal resources in Jiangsu. As the former head of the Department of Water Conservancy of the Delft University of Technology, he also has a unique perspective in the field of water education and the concept of student training, providing a high-quality international exchange platform for young scholars and students of our school, and promoted the academic deep communication and cultural understanding between Chinese and Dutch water conservancy scholars and students, greatly promoting the internationalization and specialization of collage of Port Coast and Offshore Engineering of our school.
Jiangsu Friendship Award is the highest award for foreign experts by the Jiangsu government, which is awarded every two years to those foreign experts, in recognition of its outstanding contribution to the service of economic construction and social development in Jiangsu, especially the key industries and projects, and of promoting exchanges, cooperation and personnel training in the fields of economy, science, technology, culture, education, sports, medicine and health, and of playing an important role in the development of good reputation and greater social impact. To date, 2 foreign experts in our school have received this honor.