Professor Elizabeth Treasure, the President of Aberystwyth University, visited our university in 23, March. President Xu Hui and Vice-President Xu Weiya warmly received the guests.

President Xu Hui warmly welcomed President Treasure and her delegation, and presented the development of our school in recent years. Especially to explain that our school participated in the national strategy for environmental protection and ecological restoration, took advantage of the benefits of scientific research and teaching to participate in the protection of the Yangtze River. What's more, President Xu fully recognized the large number of Specialties who cultivated by the Sino-foreign cooperative projects of Environmental Science that held by our university and Aberystwyth University. Vice-President Xu Weiya reviewed the current cooperation projects between the two schools. He hoped that the two sides would be still deepen our cooperation, jointly build Chinese-foreign cooperative school-running institutions in the fields of artificial intelligence and geosciences, strengthen the two-way exchange of students, and jointly carry out summer credit projects in international universities. Professor Treasure pointed out that Hohai University is one of the most important partners of Aberystwyth University in China. Existing cooperative projects and short-term student exchange camps held very successful. She expressed the hope that the two universities will promote in-depth cooperation in scientific research, doctoral training and other fields in the future. President Xu Hui and President Treasure renewed the memorandum of cooperation between the two schools.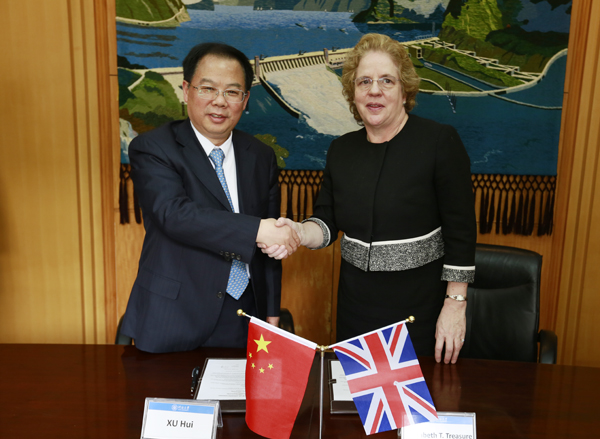 Ms. Dandan Wu, and Ms. Dandan Wu Zhi Li, the directors of International Cooperation Department of Abbott University, and other relevant personnel from the International Cooperation Department of Hohai University, the International Education Institute, the Environmental College, the Academy of Computer and Information Sciences, and the School of Earth Sciences and engineering participated in the discussion.
President Treasure and her delegation also visited the National Key Laboratory and the History Museum of our university.